Trains in Tasmania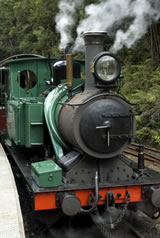 Why are there no "nearest train stations" listed in Tasmania?
The state of Tasmania no longer has any regular passenger rail services, the last shutting down in 1978. There are however several tourist/recreational railways dotted around the island. These are mainly for leisure rather than everyday use and so are not listed on our postcode or suburb information pages, however this page details some of the routes.
Tourist Railways in Tasmania
West Coast Wilderness Railway
Originally built by pioneers in 1896, the West Coast Wilderness Railway now operates as a tourist attraction twice a day. Starting at Regatta Point in Strahan the steam locomotives travel through Lowana, Lower Landing Creek, Dubbil Barril, Rinadeena and Lynchford on their four and a half hour journey to Queenstown. The distance is 35km in total during which the guides on-board describe all the historic points of interest along the way. Ticket prices include lunch, and there is even a gourmet option available including local cheeses and wine or beer. For more information visit the West Coast Wilderness Railway website.
Don River Railway
Another steam-powered train, the Don River Railway operates throughout the year between Don and Coles Beach, near Devonport in northern Tasmania. A round trip on Tasmania's oldest tourist railway takes approximately half an hour. More information can be found on the Don River Railway website.
Ida Bay Railway
The most southerly railway in all Australia, the Ida Bay operates six days a week during summer and three days a week in winter. The round trip is 14km from Lune River to Ida Bay and takes around 2 hours. There are stunning coastal views along the way and some excellent bush walking trails. For more information visit the official Ida Bay Railway website.
Derwent Valley Railway
Currently closed, the Derwent Valley Railway is based in New Norfolk and runs through Plenty to the National Park. To see the progress of reopening the railway visit the Derwent Valley Railway site.